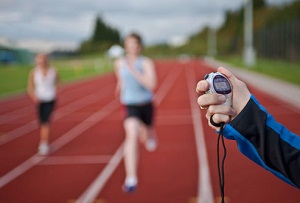 A while back, I was talking to Matt Heusser about my sticker shock when it came to conference attendance and he pointed me to his blog post on creative ways to reduce the cost:
No, you don't have to be a speaker. That may be the most obvious, easy, usual way in, but there are plenty of ways to serve for people not interested in public speaking: you might serve on the program committee, work the registration desk, introduce speakers, organize lightning talks, or serve as a "runner" in some capacity.
I took one of his suggestions to heart and volunteered to be on staff at STAREAST this year, which gave me the opportunity to look behind the scenes this past Wednesday and Thursday. (Sure, I missed out on the awesome tutorials this time around, but I did get that one key day of floating peacefully in the pool.)
This is a considerable shift from last year's STAREAST, when I was free to simultaneously learn about my professional needs while designing and executing my conference schedule. This became particularly apparent to me as the week progressed and I made new tester friends who turned out to be speakers, inviting me to their sessions and I just couldn't shirk my duties. Bummer. I'll know to look for their names in the program next time around.
This year, I put in my bids for track selections about a month ahead of time, based on the published schedule, and hoped at least one of my first choices would appear on my list. When my track chair packet arrived, I delightedly perused the list of my tracks and my speakers. On my roster were several notable testers and several newcomers. I loved knowing I would get a glimpse into the processes of both the polished professionals and the fresh first-timers.
I read over the instructions with a highlighter and multicolored pens, calling out the relevant details so that I could support these live performances without a hitch. I'm not good with form letters, and I feel that it's fair warning to let others know that I have a more casual and enthusiastic style of interaction, so I drafted my own email for first contact. From there, all of the advance preparation went off without a hitch and I eagerly anticipated getting settled in on Wednesday morning.
Fortunately for me, my first track was Agile Testing, so the speakers were predisposed to understand iterating to better and better results. It helped that I knew the first few speakers from in-person and online interactions. Speakers aren't the only ones who get nervous! One of my tester friends from Twitter was in the audience to help me work out the kinks of the tasks set before me and to tune my results to make things easier on all the session participants and to keep me from stressing out.
One thing I quickly realized was that my introduction of a speaker could hardly do him or her justice, especially when we had just met for the first time, so I resolved to keep it short and sweet, trusting everyone could read the program's bio and knowing that we were all there for the benefit of the speaker's wisdom, not my scintillating 30-second background recap.
Though troubleshooting the hardware was certainly on my mind, I was particularly concerned with making sure the session feedback was collected and returned to the conference organizers so that they could tabulate results and provide it to the speakers in a more succinct and organized way. I know from observation and discussion how much work speakers put into their presentations and how open they are to comments. Speakers care for their audience members!
The hardest part of track chairing for me was not being free to type, scribble, or live tweet all the wonderful information flying past me! Normally, I write everything down, but I had to take it in stride and trust that my familiarity with some of the material would carry me through. However, I was also supporting sessions I might not have chosen from the program since they seemed to have a focus that didn't match my day-to-day duties or needs – so I snuck a moment here and there to note some new revelation. As it turned out, I gleaned some value from every session, despite my expectations. Sure, I don't work on specialized medical hardware or ERP systems, but the generalizable lessons will stand in good stead as I broaden my understanding of the variations of software testing.
When it's all said and done, when the conference attendees have all gone home, it's the information transmitted that can make a difference in people's work lives – and perhaps even their personal lives – that gave me a warm fuzzy feeling to go along with the sore feet.